Music therapists
June 15, 2020
2020-09-12 23:48
Music therapists
EyeHarp is an instrument that opens the door for helping a group of people who until now did not have access to music education and to high-level musical activity. With EyeHarp you can teach music to people with both physical and intellectual disabilities, offering an innovative and revolutionary form of music therapy and music education service.
Advantages
What are the advantages of using EyeHarp for music?
At last you can teach people with severe disabilities to play an instrument
EyeHarp allows you to teach clients  with conditions such as cerebral palsy, amyotrophic lateral sclerosis, muscular dystrophy, amputation of an upper limb or spinal cord injury, as well as to those with intellectual disabilities.
Set yourself apart from other services by incorporating technology and innovation in your service
EyeHarp is an innovative and versatile instrument that will allow you to offer a different service, complementary to your standard techniques and workflow.
Adapt your session better to each client
You can change EyeHarp settings and adapt it precisely to the level and capabilities of each student, thus offering a satisfactory musical experience, that gives a greater feeling of learning and progresses.
Learn how to get the most out of EyeHarp
We offer audiovisual materials so you could learn how to use EyeHarp. Likewise, we offer face-to-face classes in Barcelona, ​​live online webinars, and private classes in various languages, in order to help you get the most out of this musical instrument.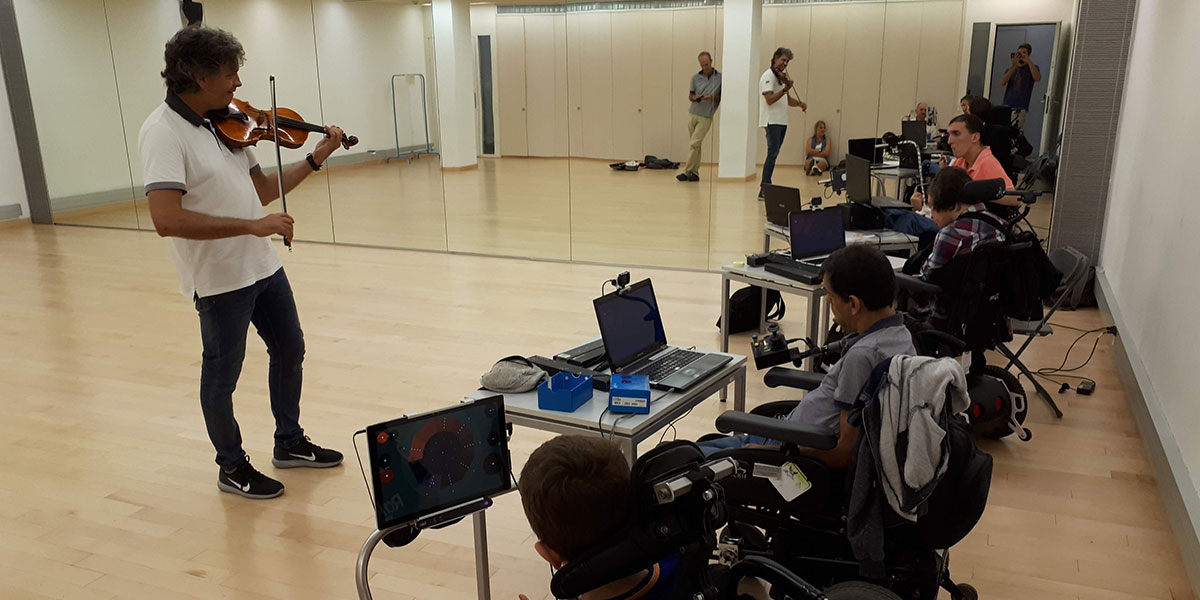 Testimonials
What music therapists are saying about Eyeharp
I have had the opportunity to try EyeHarp and see the work that Zacharias Vamvakousis does with people with motor disabilities, and I think it is an absolutely innovative, unique, and extremely useful tool. It enables people with severe physical difficulties to access playing music in a way that would not be possible without having a tool as advanced as the EyeHarp. As a professional, I recommend using EyeHarp and experimenting with this tool, which can open new possibilities for us, and give us access to patients with something that will definitely improve their quality of life.

Adriana Fasani
Music Therapist
EyeHarp is an amazing application, suitable for all levels of physical or mental disability. It offers great motivation and better accessibility than many low or high tech devices and software. The satisfaction and joy for the end user while creating sounds, rhythm, and music is immense. It is a great tool for all occupational therapists, with easy access and great benefits for all patients.

Polyvios Mylonas
pediatric occupational therapist